That 2017 was the year of the consolidation of IoT in the world is a fact, especially in light of the reports that were drawn up at the end of the year. To date, 85% of companies globally and 92% of Italian companies are interested in implementing IoT by 2019 to innovate their business and make it more efficient.
In which sectors has the greatest growth of the Internet of Things occurred in the year just ended?
The industries that invested most in IoT solutions in 2017 were: manufacturing ($ 189 billion), transportation ($ 85 billion) and utilities ($ 73 billion). As far as production is concerned, much of IoT spending has focused on solutions that support production operations and production asset management. In transport, two thirds of IoT expenditure were directed to monitoring freight transport, followed by fleet management. Regarding the IoT in the utilities sector, the biggest investments have been in smart grids for electricity, gas and water.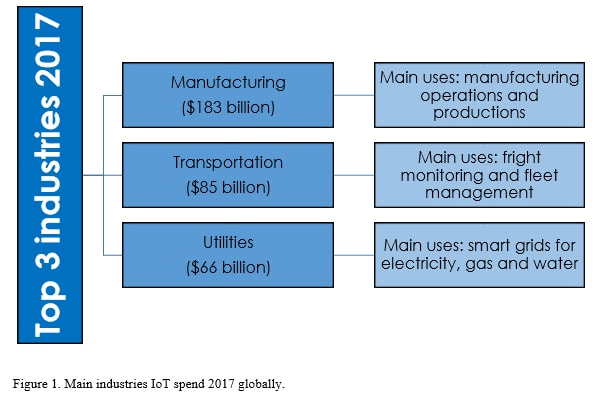 Source: IDC IoT spend 2017.
Which advantages did the implementation of IoT solutions have in the 3 industrial sectors mentioned above?
Manufacturing: 

Why are the manufacturers so interested in the introduction of IoT solutions?

Since the entry of the Internet of Things in manufacturing companies has opened new horizons and perspectives: from the greater efficiency and reliability of the machinery, to the safety and quality of the plants, up to the improvement of production, sales and post sales. Through the "Internet of Things" it is possible to give physical goods that involve industrial production, a digital identity that allows to understand and monitor in real time all the processes of the supply chain, transforming the data into strategic 

information. Therefore, by combining digital technologies for resource interconnection and cooperation, many of the business needs can be met with previously unimaginable methods.

Transportation: IoT solutions have already changed the world of transport and logistics. In fact, thanks to the sensors positioned where appropriate, constant product traceability is possible, which is also reflected during the customer delivery phase. This means shorter and more protected shipments both from the point of view of the quality and safety of goods.
Utilities: The use of IoT solutions allows utilities to improve energy efficiency, creating energy mixes that can contain waste, optimize the resources available throughout the production and supply chain of water, electricity and gas. Greater efficiency brings benefits in terms of cost reduction and pricing based on the consumption habits of potential consumers
The core of the IoT is the maximum circularity of an increasingly precise and quality information, which helps to see and better understand what is happening in real time.  Today the world is increasingly interconnected, infact it has indeed been estimated that the worldwide spending on the Internet of Things  is forecast to reach $772.5 billion in 2018, an increase of 14.6% over the $674 billion that was spent in 2017.