What is NFC technology?
Near Field Communication (NFC) technology is based on short-range wireless communication (around 4 cm) between two devices.
It operates at a frequency of 13.56, reaching a maximum transmission speed of 424 kbit/s. The NFC provides two-way communication (Peer to Peer) allowing both devices involved to send and receive information. The standardization and implementation of this technology are promoted by an association of companies called Forum NFC.
The main goal of NFC technology is:
Make life easier and more convenient for consumers around the world by making it simpler to make transactions, exchange digital content, and connect electronic devices with a touch. NFC is compatible with hundreds of millions of contactless cards and readers already deployed worldwide.
NFC operation mode
The NFC has three operating modes:
NFC Reader/Writer Mode: in this mode a device with NFC technology communicates with an NFC tag, reading and writing data within it;
NFC Peer to Peer Mode: this mode allows direct two-way communication between two devices equipped with NFC technology;
NFC Card Emulation Mode: an NFC device in card emulation mode behaves like an NFC tag on a debit or credit card.
NFC Tag
An NFC tag is a contactless transponder that meets the specifications of one of the 5 categories standardized by the NFC Forum, and called "NFC Forum Type 1-5 Tag Platforms". All 5 types can be rewritable or be set to read-only mode.
NFC tag type
Type 1: is based on the ISO 14443A. This type can be configured as read-only by users.  NFC Type 1 is Tag the simplest chip among all five types which also the slowest for data transfer rate. However, it's possible to expand memory to 2k bytes. Communication speed is 106 kbit/s The typical representative chip is Innovision Topaz 512®, and the applications for Tag Type 1 commonly are one-time provisioning, and pairing devices with Bluetooth.
Type 2: is based on ISO 14443A, with readable, re-write capabilities that users can configure as read-only. Its base memory size is 48 bytes but can be expanded to 2k bytes. Communication speed is also 106 kbit/s. The typical representative chips are MIFARE ULTRALIGHT Series and NXP® Ntag series. The normal applications for Type 2 Tag are event tickets, URL redirects, low-value transactions, and day transit passes.
Type 3:based on FeliCa System and is currently exclusively available from Sony. This type can be configured as read-only just in the manufacturing phase. It is a complex tag that provides a wide range of functionality. Due to this reason, it has a larger memory (currently 2kbyte) and operates at a higher data rate (212kbit/s). The typical Type 3 Tag is SONY Felica® Lite-S and the main applications where it used are transit tickets, e-money, electronic-ID, membership cards, e-tickets, healthcare devices, and home electronics.
Type 4:  compatible with ISO 14443A/B standards. As the type 3, Tag Type 4 is pre-set to readable/rewritable, or read-only. The chip has a larger memory and is communicating between 106 kbit/s and 424 kbit/s. The typical Type 4 Tag types for a wide range of applications are the NXP® DESFire family. The typical applications are payment and security, in fact, it offers the functionality needed to perform true authentication.
Type 5: This type of tag is the latest type of NFC tag defined in 2015, and the corresponding RFID protocol is ISO 15693.  ISO 15693 specification was originally developed to enable a longer RF operational range that up to 1.5 meters. NFC Forum chose to support Active Communication mode that allows data transfer performance similar to the RFID technologies supported by NFC Forum, but limits the reading distance at NFC devices. The typical Type 5 Tags are the NXP® ICode series and ST25TV series by STMicroelectronics. The applications for Type 5 Tag normally are library books, packaging, and ticketing.
NDEF format
When it comes to NFC technology, every time data is read, both in Tag Read and Peer to Peer mode, there is a specific type of structuring of them defined by the NFC Forum, which is called Near Field Communication Exchange Data Format (NDEF). The definition of NDEF according to the Technical Specification of the Forum is as follows:
NDEF is a lightweight, binary message format that can be used to encapsulate one or more application-defined payloads of arbitrary type and size into a single message construct. Each payload is described by a type, a length, and an optional identifier.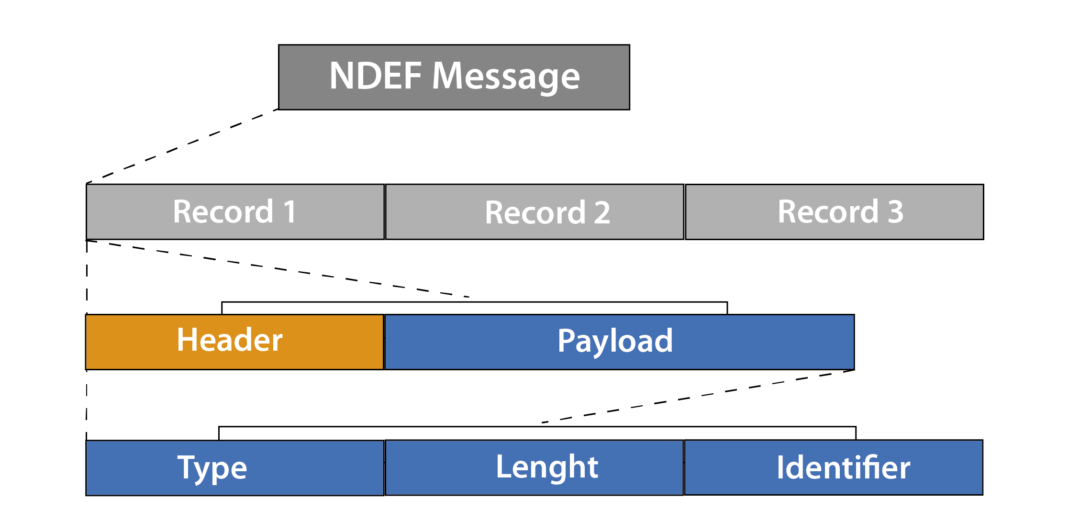 Therefore, the NDEF assumes that the message exchanged is composed of one or more Records. Records are formed by two parts: a Header that contains status specifications on the composition of the record and a Payload that represents the actual information you want to send and that contains a certain Type, Size, and optional ID.
When writing tag data, the NDEF can be used to write all five types of tags defined by the NFC Forum.
Record Type Definition (RTD)
The NFC Forum distinguishes record types into two macro-families: NFC Forum Well-known Type and NFC Forum External Type. The former represents the so-called "application data" that can be written on tags; while the latter category consists of resource types used for other purposes. In this article, only the Well-known Type are analyzed. They are four:
Text RTD;
URI RTD;
Signature RTD;
Smart Poster RTD.
Text RTD: is the most common of the Type records and

contains plain text

that can be used for a description of objects or services related to NFC tags. Within a Text Record, there must be a set of information so that whoever receives the text message can view it correctly.
URI RTD: acronym of Uniform Resource Identifier, contains a string that uniquely defines the type of resource, such as a web address, a telephone number, or an SMS, and so on. It is possible to encapsulate multiple URI files within an NDEF message, to send a variety of information.
Signature RTD: this Type contains a signature (digital signature) relating to one or more records contained within an NDEF message. The digital signature can be used to verify the integrity and authenticity of the entire NDEF message.
Smart Poster RTD: the NFC Forum developed this specification for the fast exchange of information from a tag to an enabled smartphone. T

hrough the use of this record, the smartphone should immediately be able to choose the application with which to open the data.
The portable HF readers and the industrial HF readers developed by TERTIUM Technology provide multi-protocol support for 13.56Mhz NFC/RFID communications such as ISO 14443 A/B, ISO 15693, and NFC Forum protocols regarding NFC TYPE 2,4 and 5 Tags. They also support Text RTD and URI RTD.
For more details, please contact us via email: info@tertiumtechnology.it or visit our website: www.tertiumtechnology.com and don't forget to take a look at our blog!!