The light out of the tunnel.
This is the allegory that we have chosen to introduce the new "Tunnel" function of our RFID HF ISO 15693 readers.
All passive and active RFID products by TERTIUM Technology can be controlled by serial interface, available through wired or radio connection. For all products you can find the TT-RFID communication protocol implemented on this serial line.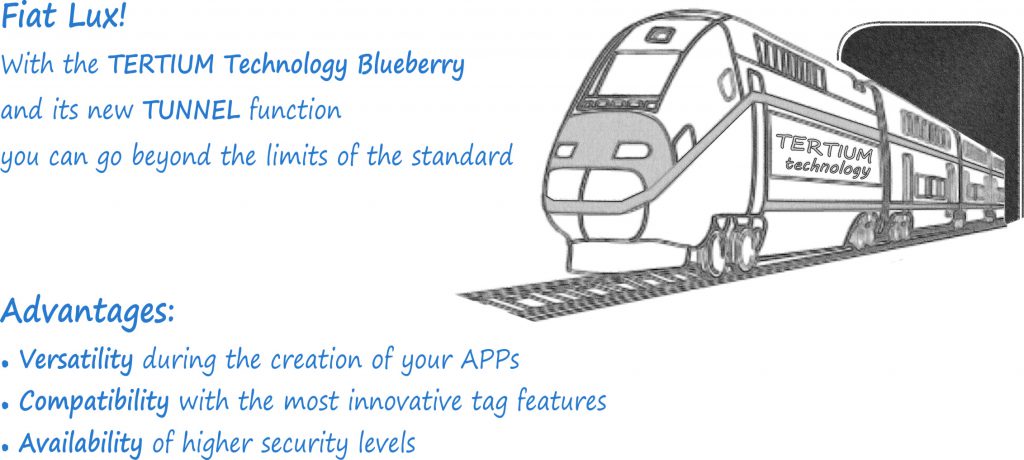 The highest added value of the TT-RFID protocol is that it simplifies the integration of the RFID technology in every kind of application:
few but intuitive command-response strings, made human-readable thanks to the ASCII encoding, are sufficient to allow the software execute main RFID functions available with ISO 15693, ISO 14443, NFC and EPC C1 Gen2 standards.
At application level, is there a chance of working easily with non-standard RFID commands, that many tags make available?
How can they be easily brought to light?
The answer is adding a single "Tunnel" command that, with the same immediacy of the TT-RFID protocol, allows to manage the custom commands of all ISO 15693 tags.
If you have to manage special functions in HF tags (especially last generation) like the ones for the sensors reading or the ones for increasing safety levels in identification, RFID products by TERTIUM Technology can represent the solution that best fits your needs.