Are you thinking of purchasing an RFID reader? Superb!!! This article discusses the main factors that need to be considered in selecting a reader.

Start with asking some basic questions in order to understand your real needs. For example:
In which environment will the RFID reader be used? Will it be used in difficult conditions, in an environment where radio waves meet obstacles?
What frequency tags will you need to read?
What type should it be? Fixed or mobile?
How far should the products be read?
To facilitate your selection, we have created a list of the main factors that determine the differences in RFID readers:
Type of reader:
Commonly on the market you can find:
Desktop readers:

they are set up to create a fixed ID control place.

Mobile readers:

they are generally used by staff to identify marked items or commit inventory counts. Mobile readers are a versatile tracking identification tool.
Reading Distance:
Radio frequency identification (RFID) technology uses radiated and reflected RF power to identify and track a variety of objects. A typical RFID system consists of a reader and a tag. The RFID reader has the task of requesting and receiving information from each tag. An RFID reader contains an RF transmitter, one or more antennas and an RF receiver. The power level is the amount of RF energy emitted from an RFID reader. Read distance is related to the transmitted RF power from the reader. In layman's terms, the higher transmitted power, the higher read distance. Of course, even the kind and the size of the used tag, especially its antenna, affect the reading range.
Power Consumption:
Since many readers use a battery, you make sure the reader has a good one. But how? You need to know how much energy is consumed when transmitting at full power and how it saves energy when it is at the minimum setting. There are many options available that can help preserve the battery, including a sleep mode.
RF Receiver Sensitivity:
Each RFID reader has a maximum receive sensitivity indicated as a dBm value, below which it is not able to "hear" the tag response signal. This sensitivity value contributes, together with the other characteristics, to determine the quality of an RFID reader.
Communication interfaces:
RFID readers can connect to host devices (computers, smartphone, tablet,..) or networks and communicate data in various ways. The main interfaces are:
LAN:

uses an Ethernet cable to join a network. Once on the network, the reader can interact with programs and other connected devices;

Wi-Fi:

together Bluetooth, provides a cordless, flexible option for RFID solutions;

Bluetooth:

allows the reader to connect to a host computer while remaining wireless. Bluetooth options are generally available on mobile for connecting to smart devices like pc, phones and tablets;

Serial port:

RS232, TTL and USB are some of the most common serial interface for direct connection with host computer. Serial connection is optimal for simple solution with one reader and computer, with no need to use additional network functions.
Country of operation:
There are three different frequency ranges popular all over the world:
LF (120-145 KHz);

HF (13,56MHz);

UHF (860-960 MHz).
Low and high frequency RF bands are mostly standardized and used uniformly from country to country. As for UHF things get more interesting. In fact, different areas still use different frequency ranges for UHF; European Union uses 865-868 MHz, while North America sends at 902-928 MHz, and China has chosen 920.5-924.5 MHz.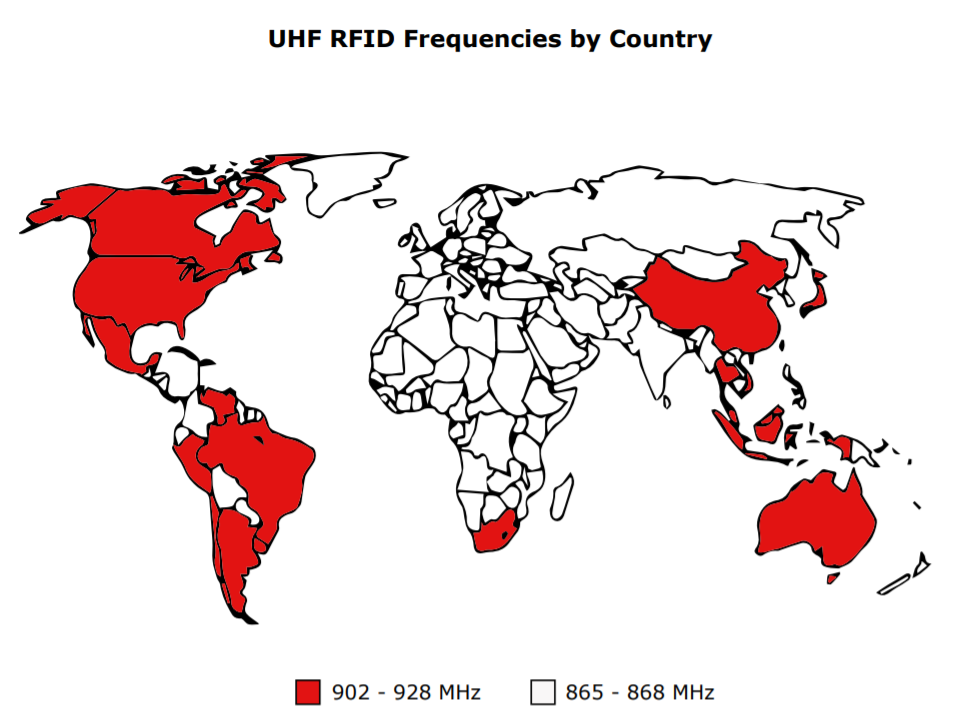 Environment conditions:
Among the factors to be considered is certainly the temperature of the working environment. As a rule, most RFID readers on the market are commercialized and guaranteed to operate at certain temperature ranges. However, if the working environment is extreme, it is always a good idea to check the data sheet before purchasing the reader (What temperature range can TERTIUM readers work?). Metals and liquids can also cause problems, since metals reflect the signal emitted by the reader, while liquids absorve it. This involves interference with the communication between the tag and the reader, significantly degrading performance. Luckily now, on the market there are readers with special antennas (find out TERTIUM readers dedicated for metal) that are suitable for reading tags on metal or into a liquid. Among the type of transponders suitable to be used in these cases there are embedded tags.
User Interface:
RFID readers usually offer some type of programming options for configuring the MMI (Man Machine Interfaces) like LED and beeper for feedback. These interfaces provide users a visual, aural, or both indicator of when a reader is powered and usable, and to notify after interrogation if the tag has been read or not, the battery level, and wireless interface connection status.
Make sure the reader is future proof:
The ability to upgrade the reader can considerably reduce the system cost in the long run. Because you don't want to buy a new reader next year due to the current reader's obsolescence.
API:
The availability of APIs (Application Programming Interface) is an important facet to consider before purchasing an RFID reader, especially before developing software, because they make application development easier and faster. So it is important to investigate, if the APIs provided fit your needs.
Compliance:
The manufacturing and operation of RFID devices has been regulated by international standards. In Europe, The European Telecommunications Standards Institute better known as ETSI, sets the standards for the European Union for all Information and Communication Technologies which includes RFID. ETSI's standards ensure that compliant devices will be both safe and won't interfere with other radio communication, e.g. broadcasting or emergency services. In U.S, the Federal Communications Commission or the FCC, is the governing body that oversees these standards for the United States in accordance with the Federal Communications Act.
Hope this article helps you in choosing the most suitable reader for your needs. If you want to know more about RFID technology, and in particular about RFID readers contact us at info@tertiumtechnology.it or visit our website https://www.tertiumtechnology.com/en/