Bluetooth is a technology standard for short-range wireless data transmission between devices that have compatible chips.
This technology has been designed to offer a low-cost and low-power alternative to Wi-Fi at the expense of transmission range, which is significantly shorter, and transmission speed.
The success and spread of this standard are due to a group of companies, which is called Bluetooth Special Interest Group (SIG), which has been in charge of its development.
Classic Bluetooth
It should be said that using the term "classic Bluetooth" is not properly correct. Altough this expression has become common use and refers to the Bluetooth Basic Rate. Bluetooth was initially designed for applications that require a continuous data flow exchange. This means that you can exchange a lot of data at a close distance.
Bluetooth Low Energy (BLE)
The SIG research over the last decade has sought to improve the performance of Bluetooth in terms of energy consumption, coming to present in 2010 the Bluetooth Low Energy (BLE) standard. The goal of the developments that led to the creation of this version was to develop a very low energy consumption standard to be adopted for those applications that require the only periodic transfer of data and not continuous streaming of data, BLE remains in sleep mode constantly except for when a connection is initiated. The BLE guarantees about 4/5 years of battery life of an IoT device.
How does the Bluetooth standard work?
The standard has been updated over the years, adding specific configurations for different needs but always based on the same guidelines as the first version released in 1998. The communication is based on the transmission of packets, or rather groups of bits that contain not only the actual information but also additional data for recognition and synchronization between devices.
The basic configuration of transmission involves two devices and takes place with the criterion of the master and slaves. The master has the task of managing the communication (start, synchronization, end) while the slave just follows the instructions of the master.
The main differences between the two versions of the Bluetooth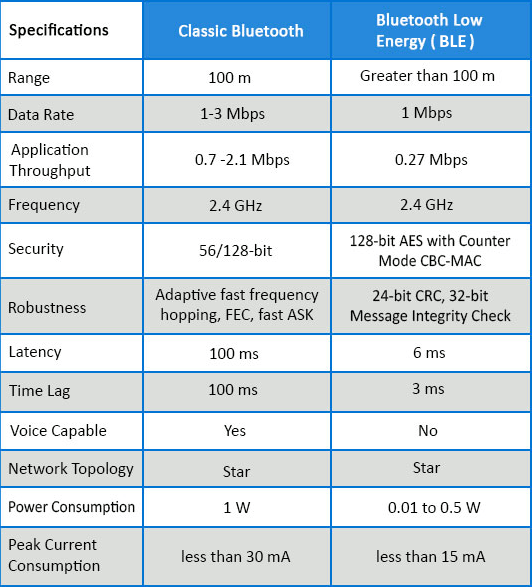 The main applications of Classic Bluetooth and BLE
Classic Bluetooth is fantastic for products that require continuous streaming of voice and data, such as:
Wireless headsets
File transfers between devices
Wireless keyboards and printers
Wireless speakers
Bluetooth Low Energy (Bluetooth LE) is ideally suited  to IoT applications such as:
Fitbit-like devices
Monitoring sensors
Beacons
In conclusion, Bluetooth Classic is not an obsolete version of BLE. Bluetooth Classic and BLE both co-exist and are used for different applications. It all depends on what you're trying to accomplish!